Breastfeeding reduces your lifetime risk of developing breast and ovarian cancer, and diabetes? It also reduces your baby's risk for childhood cancers.
Breastmilk is full of probiotics and good bacteria and proteins that optimize your baby's immunity.
Your breastmilk changes to suit your baby's needs. So if you're baby is deficient in some element, your milk will adapt to meet this need. For more information on the advantages of breastfeeding, see my blog.  
Are you considering breastfeeding your baby and don't know where to start?
Are you planning on breastfeeding your baby but you don't have a breastfeeding plan?
 I am an International Board Certified Lactation Consultant and Public Health Nurse and I want to help YOU.  I want to work with you and your family so that you feel supported and guided in your breastfeeding journey. You wouldn't climb Mount Everest without pre-planning and having the right team around you.  I want to be your team and personal cheerleader.
Investing in a Lactation Consultant before you have your baby will be THE best thing you can do to ensure you achieve your goals.
I will work with you and prepare you for all aspects of breastfeeding your baby, and when you have your baby, I will be right there guiding and supporting you until you feel you no longer need me.
When you book a consultation with me, not only will you feel fully supported and empowered in your breastfeeding journey, you will also be getting the benefits of my skilled and professional knowledge of newborn and child health and development.  
So, if you are still feeling unsure why not contact me at niamh@latchingon.ie or 087 9351797, so that you can feel 100% comfortable with embarking on this journey with me.
Postnatal Consultation
Breastfeeding is not always a blissful journey – there can be many types of challenges from physical to mental and emotional.  I can help you overcome these challenges so you can enjoy this precious time with your baby.  Book a Postnatal Consultation either online or in person.  Read more about my postnatal consultation service.
I cover the Kerry/Limerick area, but also do online consultations. Not sure what service or advice is right for you?  Why not send me an email or contact me on 087 9351797.
However, tongue tie doesn't just affect breastfed babies. It can also affect bottle fed babies.  This usually only starts to become a problem after about 6-8 weeks of age.  Unfortunately, mothers of bottle fed babies with a tongue tie that is affecting their ability to suck effectively, often undergo months of distress due to the lack of knowledge in the healthcare community around this subject.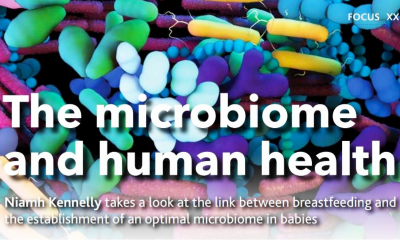 The microbiome plays a significant role in the health of us humans.  It is considered by many as another organ, such is its extensive impact.  However, because it is not visible to the naked eye like the heart or lungs, it is difficult for us to be mindful of. 
The Public Health Nurse (PHN) is most often the first health professional that an Irish mother and her partner will meet when she comes home from hospital with their baby.  According to the HSE (4), the role of the PHN is to visit homes following birth notifications and to monitor child, maternal and family health, and to particularly focus on the benefits of breast-feeding.