Almost all breastfeeding women will suffer from sore nipples at some stage. That is not to say that nipple pain is normal. It isn't. Cracking or bleeding is never normal, and your nipple is never supposed to look squashed or lipstick-shaped.  It is also worth stating that everybody feels pain differently.  For some women, the let-down sensation can be painful, and others don't ever feel it at all.
Lipstick-shape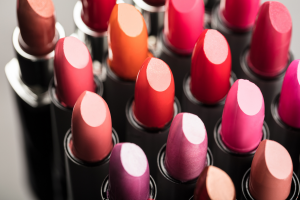 If you are having pain it needs to be addressed.  Get in touch with a support person (it may be your GP, PHN, mother or sister, or friend).  Or ideally an International Board Certified Lactation Consultant (IBCLC), who is a breastfeeding specialist that will assist you with resolving this issue, and maintaining breast focus.
In the early days, nipple pain is often caused by:
incorrect positioning
the near constant latch on/latch off experience that is Night 2
poor nipple care
inverted nipples
tongue tie
After the initial few weeks, when supply is stabilizing and baby and mum have gotten to grips with breastfeeding, nipple pain can also be caused by:
thrush
dermatitis/eczema of the nipple
teething or biting
gymnastic nursing (sounds like great fun, but can in fact lead to nipple pain)
pumping with an ill-fitting flange
blocked nipple pores
From reading the above, it sounds like an insurmountable avalanche of nipple pain and problems, but in most cases nipple care and correct positioning and latching will solve the most causes of nipple pain.
Nipple care
The following is general advice for nipple care:
The early days
The newness and constancy of baby latching on (which is entirely normal) can cause the tender nipple skin to feel very sensitive and if left unmanaged, can lead to the top layer of the skin feeling grazed.  It is important to begin good nipple care from day 1. After baby latches off take a look at the nipple shape. If it's not round in appearance, then you may want to get help regarding the latch/position. All it may take is one little tweak in positioning to make feeding more comfortable for you. Take a look at Laid Back Breastfeeding as a position: https://latchingon.ie/postnatal/laid-back-breastfeeding/
When baby is finished feeding, apply a thin layer of purified lanolin. Don't leave nipples open to the air, as this further dries them out leading to increased risks of cracking. Lanolin enables new skin cells to knit together by providing a moist bed for them to slide toward each other and 'seal the breach'.  There is no need to remove the lanolin before the next feed unless it is making your breast too slippy for baby to latch deeply.
Treatments for nipple soreness
Ok, so your nipples are now officially sore, cracked, abraded etc. What is out there for you to use?
Silver nipple cups
Silver nipple cups are small cups that use the healing power of silver to prevent and treat nipple damage. They are eco-friendly, non toxic, can be passed on to others, and there are no chemicals used that can be passed on to baby. You simply place them on your nipples and let them do their work. Some mums use these from day 1 to prevent sore nipples. They cost about €50. The only problem with these cups that I am aware of is if mum has a metal allergy, these would cause further issues and breakdown. However, most women know if they are sensitive or allergic to metals and will be mindful of this.
Nursicare Therapeutic Breast Pads
These soft breast pads are made from PolyMem (a material that reduces pain and improves wound healing). They are a soft foam-like texture that are very mouldable to the nipple and don't stick. They are reusable to a point. The nipple should be slightly moist prior to applying the pads to help them mould to the shape of the nipple. See video below. These pads are very good for relieving pain and healing damaged nipples. The downside is that they are expensive. A pack of 6 costs around €24.50, and if mum leaks a lot, these pads get saturated quickly and it can be very costly. However, they do work.  The following is an instructional video:

Multi-Mam Compresses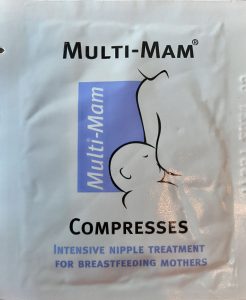 These compresses were 'THE' go-to product a few years ago, before Nursicare and Silver nipple cups came along.  However they are still a very good product to have. They cost about €15 for a pack of 12 sachets. The compresses themselves are quite large, and if your nipple is a small or medium size then you can cut the compress in half and it gives you more value for your money. These compresses contain a bio-active gel which prevents the harmful micro-organisms from developing and therefore prevents infection. They based on natural plant extracts and the gel is harmless to baby.  From talking with mothers, these compresses are most soothing when used directly out of the fridge.
So, to Recap
Sore nipples are a common complaint for breastfeeding women. If nipples are cracked or bleeding, the underlying cause must be addressed or none of the above treatments will work.
However preparation is key.  We have a tendency to be reactive rather than pro-active.  Treating your nipples after they become sore is reactive. Instead, try to be proactive and treat your nipples so that you prevent them becoming sore.  Your nipples will thank you for it!!