Firstly, congratulations on your pregnancy!! It is such an exciting and special time, when you see that pink line appear. You get flooded with images of you and your pregnant belly, your growing baby, what or whom your baby will look like, is it a boy or girl, and what will labor be like? Then, you imagine your baby nuzzling into you, and latching on, getting all the milky goodness, as well as looking deep into your eyes and bonding with you, while feelings of contentment, belonging, and love wash over you both, while your partner supports you both in this new family.
This is exactly what breastfeeding can be for you. But in order to make it as seamless as possible, and give you the best start, there are many things that you can do now while pregnant that will make all the difference once baby is here.
But isn't breastfeeding supposed to be the most natural thing in the world? Shouldn't it just be a case of latching baby on and seeing how it goes? Unfortunately not.  According to Glover and Wiessinger (2017), we have lost our generational support and advice system over the last few generations. Our ancestors would have grown up watching their mothers, aunts and neighbours breastfeed their babies, and learned from all of their experiences, so that when their time came they knew what to do and had a knowledgeable support network to access easily when there were issues.  Mothers trusted their bodies implicitly to feed their babies because everybody else did. Unfortunately, we have lost this familial, generational knowledge, and the implicit trust that there is a breastfeeding solution for every breastfeeding problem.
So, this is a starter guide for things to consider while you are pregnant:
Look at your breasts
The majority of women notice that their breasts grow in size gradually throughout their pregnancy, but some can find that their breasts grow rapidly midway through and then stay like that and others notice that they get a large growth spurt in the last trimester. It doesn't matter when your breasts grow, but it does matter that you notice breast changes. If you don't notice breast changes at all during pregnancy, this may be a marker for breastfeeding challenges after birth, such as insufficient breast tissue to make a full supply, or underlying thyroid or PCOS (PolyCystic Ovary Syndrome) that could interfere with normal hormonal stimulation of breast growth and supply.
So it is important to keep a casual eye on your breasts and notice if they are growing and getting heavier, and if blue veins start to appear (which is a good sign as blood supply to your breasts in increasing).
Amazing Fact: The average breast doubles in weight during lactation!!!
It is also a good idea to look at your nipples. The colour of the areola may darken, grow hairs, and as your pregnancy progresses, grow small little nodules on the surface of the areola called Montgomery Tubercles. These glands assist your baby to latch on by releasing a scent and by lubricating your nipple and areola. Amazing!!
But also look out for any nipple inversions (where your nipple is turning in). You may want to try the pinch test to see if your nipple inverts when it is stimulated. To do this, you pinch the areola edge (about an inch behind the nipple). It will do one of 3 things: stand out (common), invert (see next section), or flatten (see next section).
Flat nipples are usually not an issue if you get baby latched on as soon as possible after birth, and there are many devices you can use that will help to evert (pull out) your nipples (this will be discussed further in the 'Equipment to purchase in Advance' section). For more information on Nipple inversion check out a series of 3 videos I did on Nipple Inversion:
Inverted nipples may present more of a challenge but with the right advice and techniques, and possibly devices, these challenges can be overcome also (this will be discussed further in the 'Equipment to purchase in Advance' section).
Colostrum Harvesting and Hand Expressing
Firstly, you must have the support of your Obstetrician before you harvest your colostrum. Therefore ask about this at your antenatal clinic appointment to seek clarification around your hospital's policy on this.
What is colostrum harvesting?
This is where you hand express off your colostrum before you have your baby (usually after 37 weeks), so that you have a stash of colostrum frozen so that if your baby needs a top up, it is a breastmilk top up he/she gets. This is especially likely on night 2, when babies can be very hungry and feed what feels like all through the night.
Why should I consider this?
Before we have our babies most of us don't handle our breasts that much. Then we have a baby and its nothing but handling your breasts and many women simply don't know how to. Learning the skill of breastfeeding, and hand expression is a very steep learning curve when your baby is in your arms. But if you practice this skill in advance, you will be much more confident in handling your breasts and getting milk from them in those early hours, days, and weeks.
For instance, most people don't know that a newborn only needs about 5mls colostrum each feed, therefore if your baby cant latch on for whatever reason, you can hand express your milk onto a teaspoon or syringe and feed it to your baby, thereby keeping blood sugars up, your baby alert and not unnecessarily introducing formula. Win Win!!!
Online networks/social media support groups
The power of social media cannot be underestimated for giving power back to parents, in the form of knowledge, tips, and a ready community of like-minded people, who are eager to help. There are many facebook groups (such as the Latching On Facebook Group), as well as websites where you can join other mums who are due their babies in the same month as you and can discuss topics relevant to your stage of pregnancy and breastfeeding.
Do a Breastfeeding Specific Antenatal Class
There is nothing like a really good antenatal breastfeeding class to prepare you and your partner for breastfeeding.  They are usually run by your local maternity hospital, and are therefore up to date and current with hospital policy, and obstetric practices.
However, COVID 19 has completely changed the landscape of how we interact socially? Therefore many hospitals are now running online antenatal classes, and there are also Lactation Consultants running private classes online. To find a local Lactation Consultant in Ireland check out: https://www.alcireland.ie/find-a-consultant/
Equipment to purchase in advance
Where to start? You could spend a fortune on equipment that you may never need. However there are a few items that I would not be without.
Must haves
Nipple everter devices, only if you have an inverted or retracted nipple.
Silicone Breast Pump – are very handy to have for various reasons.  They can help with regulating your supply, taking off a fast Milk-Ejection Release (MER), helping with engorgement, building a stash etc. They are very reasonably priced, and there are many different versions available. A word of Caution- like any device, if these pumps are overused or used inappropriately you can run into breastfeeding issues. Especially if used before supply begins to regulate.
Breast Pumps: Silicone breast pumps are mighty, but at some stage you may need a breast pump, in case you are separated from your baby for any reason, or so you can take a few hours to yourself, or if you feel your supply is dipping, or you want to build a freezer stash. As with anything, it is better to have one than go looking for one when you need it. The best pumps are those that are double, electric, closed system pumps. There are many pumps out there and I have discussed these in a separate post: https://latchingon.ie/postnatal/breast-pumps-flange-size/
Nipple shields: Hopefully you will never need these, but if you do, you will need them NOW (if your nipples become damaged and painful). They are inexpensive items and 1 pack (usually contain 2) will do you to start (have in your hospital bag as Night 2 can be tough). Go for the butterfly shaped ones, with the thinnest silicone you can get. Make sure they fit your nipple correctly:  https://blog.breastmates.co.nz/advice-and-tips/expressing-and-pumps/expressing-help/breastshield-sizes-pumps/  and that you know how to apply them correctly:  https://www.laleche.org.uk/wp/wp-content/uploads/2015/12/Untitled-design.png
Lanolin- this is an invaluable product in the first few weeks, but not if you have a wool allergy as lanolin is made from sheep's wool.
Silver nipple cups- These are mini legends, that will heal sore nipples in no time, unless you have a metal allergy or intolerance!!! Express a little milk onto your nipple, apply these bad boys and let the silver do its thang!!
A Baby Sling- I cannot stress the importance of a wrap sling for the early weeks and months, especially if you have a toddler who demands your attention. Babywearing Ireland have a fantastic facebook page where you can trial slings for a month at a time to see if they suit you. However, if you are part of a support group or online forum, mums will happily suggest certain types to suit your needs.
Breastfeeding clothes: specific breastfeeding tops are not an essential item. A front opening top/nightdress is handy for the first few days in hospital. However, a string top with a t-shirt over it is just as effective. You pull up the t-shirt and down the string top and both your chest and tummy are completely covered.
A good supportive wrap-around breastfeeding pillow and footstool to lift your knees. The stool will lift your legs up, which supports the pillow, and thus your baby also.
Breast pads, milk storage bags and containers. All essential items to have at home. Bear in mind, some women will never leak breastmilk, and this is absolutely normal and is no indication of supply or lack thereof. However those who leak don't tend to get as painfully engorged as those who don't.
A Good Breastfeeding Bra
As we all know bra's are highly individual. Some mums like the feel of a very good supportive bra, while others just want to be comfortable in those early weeks and don't mind about support. In fact if you want to go bra-less, go bra-less.  Or choose a bra that is made of thin, stretchy fabric that is comfortable to wear night and day. It is very important to measure yourself correctly. Your pre-pregnancy measurements are pretty much irrelevant. Use the Boob or Bust Calculator to help you find your current measurement: : www.booborbust.com.
If you are choosing a bra, try to avoid underwire bra's or bra's that leave marks on your skin in those early weeks as they could cause blocked milk ducts and infections. I am not advocating any one brand but from the mums I have asked the following names come up repeatedly:
'Hotmilk' (wash well and hold their shape)
'Molke' are a Scottish based company that make soft, breathable bra's that have no clips or fasteners. The colours and fabrics are really funky, and they offer something a little different to the breastfeeding market.
'Elomi' are a very well known and reliable brand.
'Bravado' available on JoJo Maman Bebe have a range of breastfeeding bra's that have a dual purpose of holding 2 pumping flanges simultaneously. In fact JoJo Maman Bebe have a very good range of nursing bra's.
Bravissimo
Cake Maternity
Seraphine
M&S have a good reputation also for fitting bra's and stock a good range of breastfeeding bra's.
Take a look at this piece by Everymum:(https://www.evermum.ie/baby/feeding/breastfeeding/mums-opinion-the-best-nursing-bras-for-you/)
Join a Local Breastfeeding Support Group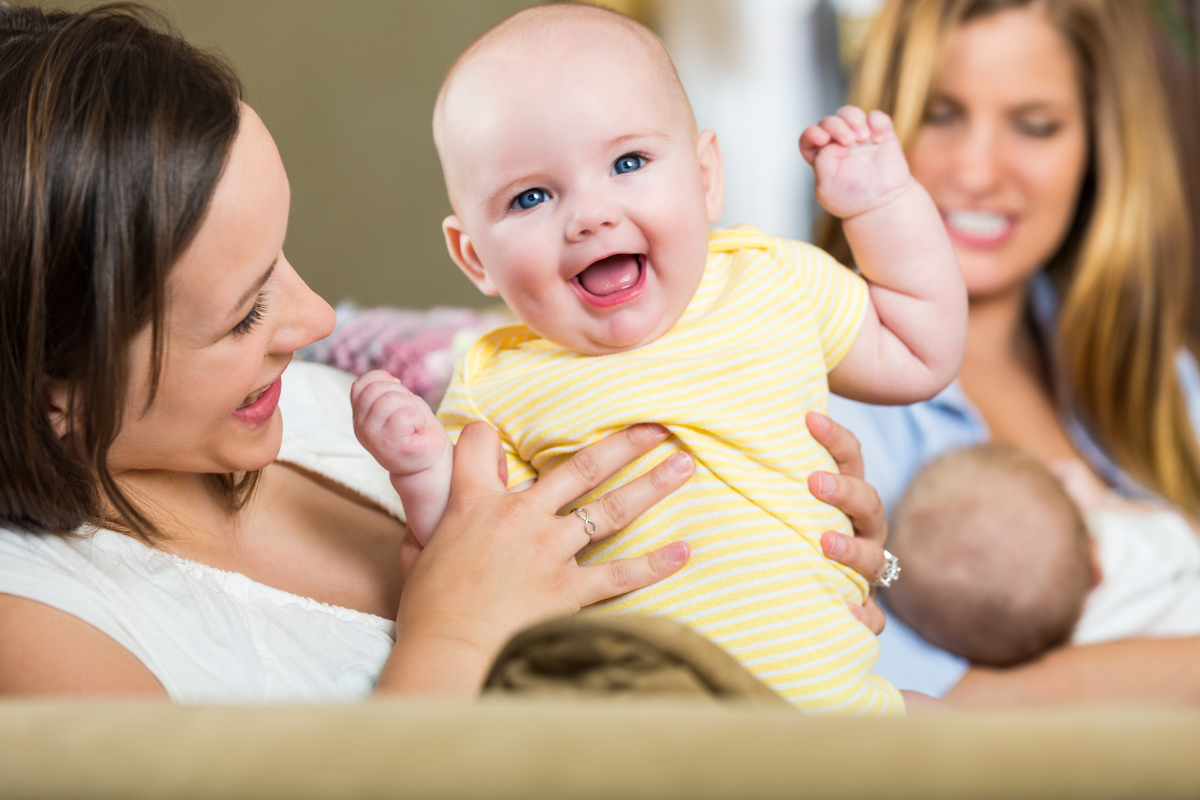 It can be very daunting to join an established breastfeeding support group before you have your baby, but if you do it is a very smart move, for the following reasons:
You are sitting in a room filled with parents who are feeding their babies and children, as you aspire to feed yours, therefore it instills confidence in you.
You pick up tips and listen to others' experiences.
The mums are always delighted to promote breastfeeding and support you.
You know the women attending, therefore when you return after you have your baby it's like coming to see your friends. You have a tea/coffee and sit and chat about everything/anything. For many mums, this becomes their lifeline and main social outlet in the first few months, and they look forward to it every week.
Many support groups have a PHN who attends and can discuss any specific challenges with you in person and in private if you wish, and may weigh your baby, which gives you added confidence in those early weeks.
Many of the mums exchange books, helpful ideas, tips for instagram or facebook pages, offer knowledge on local services, and more often than not they discuss life, and all the non-breastfeeding issues. It is also a parenting group, not just a breastfeeding group.
Again, Covid 19 has temporarily stopped these groups, but more and more of us are moving online, and that can only be a good thing too as it extends our reach. For me however, nothing tops meeting in person.
Consider an Antenatal Lactation Consultant Consultation (try saying that 5 times faster!!)
This may seem a little OTT but Lactation Consultants really know their stuff. The standard of knowledge and expertise that is required to become an LC is so high that only the people that really LOVE breastfeeding endeavour to take this on. What do LC's do?
They take a full history, of you, your pregnancy, previous pregnancies, previous breastfeeding experiences, family support structures etc.
They listen to and address any fears or concerns or trepidations you may have.
They provide a visual inspection of your breasts and nipples (if you wish) to check for breast and nipple conditions that may impact on your ability to breastfeed, and they discuss any findings with you and work on a care plan to address these issues.
They discuss your birth plan with you and will educate you on how different interventions have different effects on you and baby and baby's ability to breastfeed, which gives you the power to choose what you want and prepare for the known consequences. You may still have these interventions if they are deemed medically necessary, but then you will know what to expect after baby is born. Knowledge is power.
The best aspect of an antenatal LC consult is that you are now a mom who is known to the LC, therefore you know where to go if you run into problems, and your LC knows you well, and your history and breastfeeding goals, and can assist you much more easily and quickly.
To find a local Lactation Consultant in Ireland check out: https://www.alcireland.ie/find-a-consultant/
References
Glover, R. and Wiessinger, D. (2017) Supporting Sucking Skills in Breastfeeding Infants. In Watson Genna, C (Ed) They Can Do It, You Can Help: Building Breastfeeding Skill and Confidence in Mother and Helper (opp. 113-153). Jones and Bartlett Learning, Burlington, MA.